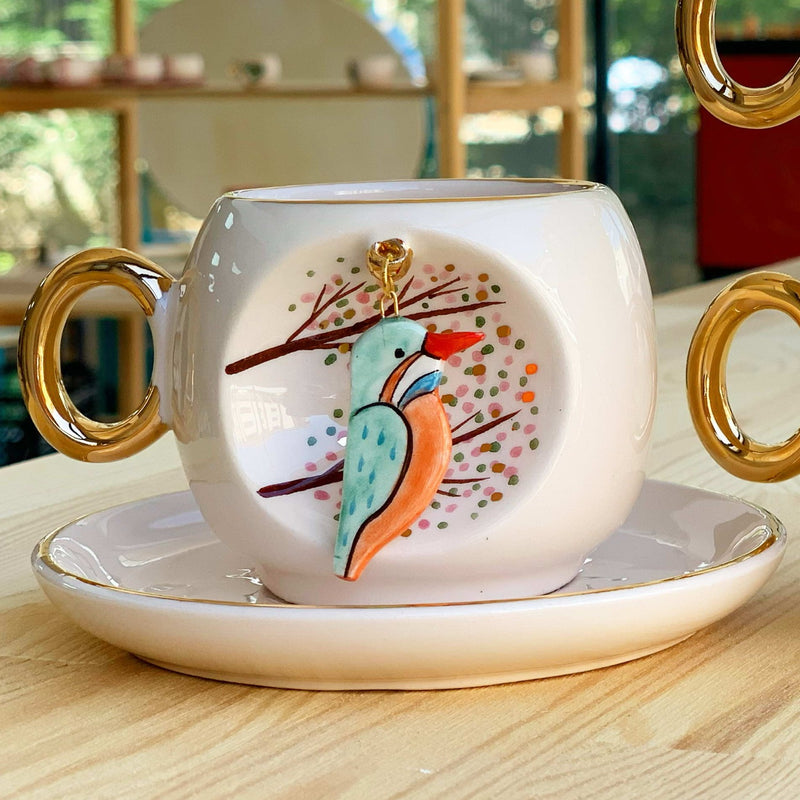 Nature Series Kingfisher Coffee Cup
Nature Series Kingfisher Coffee Cup
• Nature series is designed to raise awareness of endangered animals. We chose 6 different animals (Kingfisher, panda, caretta, blue whale, emperor penguin, red fox) for you.
• This product includes a ceramic Kingfisher figure attached to the fixed ring in the cavity on the cup. Since the ring is produced together with the cup during the production phase, it does not come off.

***FEATURE
• Includes 1 ceramic mug and 1 saucer.
• Cup Volume: 150 ml. / 5 oz.
• Cup Height: 7 cm. / 2.75"
• Cup Diameter: 6 cm. / 2.35"
• Gold: Ceramic and porcelain gold containing 24K real gold.
• Color: off-white,
• Pattern: Underglaze brush drawing.
• The pattern and color tone are a little bit different for each cup. That's why each product comes out of the oven uniquely.

***PERSONALIZATION
Please note: Our products are entirely handmade. So we can customize all our products according to your wishes. Please contact us for your personalization requests.
Personalized mugs take 2-3 weeks to create according to what you want.
BSK CERAMICS consists of 100% handmade ceramic products. The products are shaped by hand and fired at 980°C for the first firing of biscuits. Then it is painted, glazed, and fired again at 1040°C. It is fried again and last time by carefully detailing with the real 24k gold. Ceramic products are suitable for dishwashers and microwaves. Only gold-detailed products should not be placed in the microwave. Every stage of BSK CERAMICS products is handmade. Use on beautiful and free days.