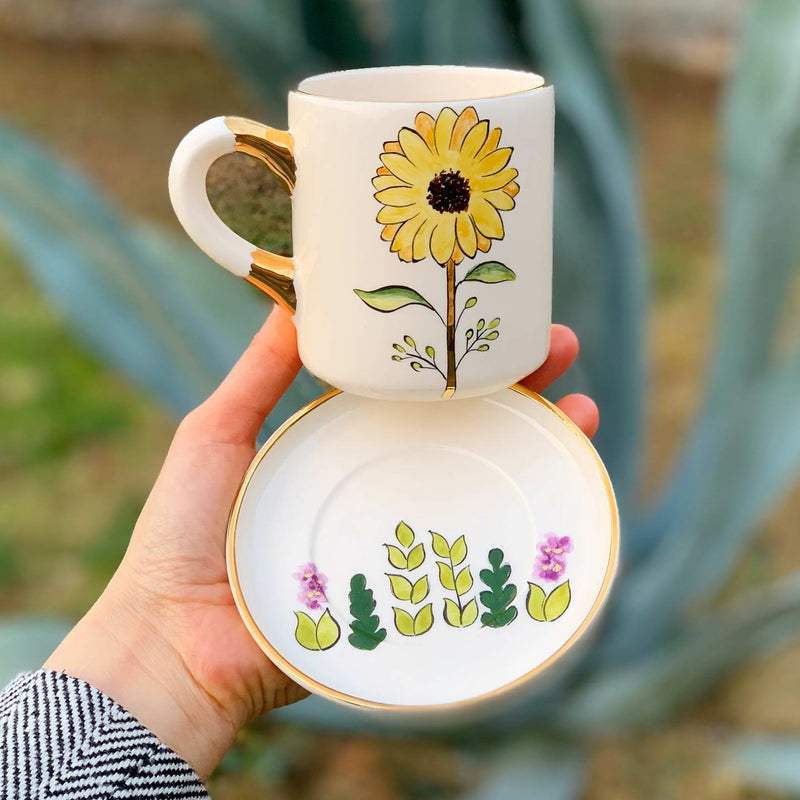 Sunflower Mug
Sunflower Mug
Includes 1 ceramic mug and 1 saucer.
Cup Volume: 360 ml. / 12 oz.
Cup Height: 9.5 cm. / 3.7" 
Cup Diameter: 8 cm. / 3.2" 
Pattern: Underglaze brush drawing.
The pattern and color tones are a little bit different for each cup. That's why each product comes out of the oven uniquely.
Gold: Ceramic and porcelain gold containing 24K real gold.
Color: off-white, Yellow.
BSK CERAMICS consists of 100% handmade ceramic products. The products are shaped by hand and fired at 980°C for the first firing of biscuits. Then it is painted, glazed, and fired again at 1040°C. It is fried again and last time by carefully detailing with the real 24k gold. Ceramic products are suitable for dishwashers and microwaves. Only gold-detailed products should not be placed in the microwave. Every stage of BSK CERAMICS products is handmade. Use on beautiful and free days.